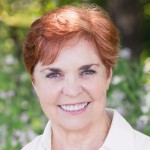 Janis Flores was born in Montana, grew up in Colorado, and vigorously resisted becoming a "Valley Girl," when her family was transferred to southern California's San Fernando Valley when she was a teenager.
She became a Medical Technologist after college graduation, working in a medical lab that left little time for writing anything but test results. She married Ray Flores one day after her 22nd birthday—not good planning, but she figured he'd remember the dates or forget them both. To his credit, he's never forgotten either—although she would just as soon forget the birthday part.
After moving to northern California—she to supervise a medical laboratory there; he to establish his horseshoeing business—she thought it would be fun to sign up for a Creative Writing class at the J.C. The class was on the short story, but as Janis always seems to have a lot to say, she wrote her first novel, a Gothic suspense called HAWKSHEAD, which was subsequently published in hardcover by (then) Doubleday and Company.
That first book was quickly followed by two more Gothics:
PEREGRINE HOUSE and GYRFALCON HALL,
and then the best-selling historicals:
BITTERSWEET, CYNARA and HIGH DOMINION.
A move to Random House/Ballantine produced the contemporary mainstream novels
LOVING TIES, RUNNING IN PLACE, and DIVIDED LOYALTIES,
and the best-selling
ABOVE REPROACH, TOUCHED BY FIRE, and SIREN SONG.
Currently, Janis lives in Sebastopol, California, with her husband, three rescue dogs, and two pampered Arabian horses. Her next exciting project, with Short Fuse Publishing, is bringing to life her considerable romance backlist, as well as numerous mainstream novels.
LET'S TALK ABOUT ROMANCES
A senior editor at Harlequin called Janis out of the blue one day to ask if she would write for them. She didn't have to think about it; of course she said yes!
Janis has always enjoyed writing contemporary romances—first Silhouette Special Edition, and then Harlequin Superromance. She always had a yen to write light-hearted stories that made readers laugh, and in fact, she was one of the first of the Harlequin authors to use humor in stories. When her Silhouette editor (before the Harlequin/Silhouette merger) asked her to choose a pseudonym, she chose April Thorne, because her mother had wanted to call her April, but her father was reading a Zane Gray novel at the time, featuring twins Janis and June. Guess who prevailed? The Thorne surname came about because she was writing an historical at the time with a character named Thorne.
She was offered the same choice of pseudonym when she began writing for Harlequin, but this time she chose the name Risa Kirk, because Risa means laughter, and humor is what she wanted to infuse into her romances. Being a closet romantic, she loved being able to write the "HEA" (happily ever after), because isn't that what we all want?
PUBLISHING THE 'BACKLIST'

Another exciting development is the ability of authors to publish their "backlists" — those books that have gone out of publication but are now being given new life.
Janis is thrilled that the trilogy she wrote for Harlequin—THE DUNLEAVY LEGACY—is the first of her romance backlist to appear in digital format, with paperback to follow. The first book of the trilogy, DONE DRIFTIN', is being published by Short Fuse Literary's Hot Fuse Classic imprint, and is currently available for pre-order at Amazon.
The second and third books of the trilogy will follow soon.
Until then, here's a glimpse of DONE DRIFTIN'
An intriguing invitation…
Carla Dunleavy thought her only family consisted of her and her socialite mother. When she receives a letter from a grandmother she never knew existed, she asks questions, but her mother absolutely refuses to discuss the past. Determined to find out why, she accepts her grandmother's invitation to visit the once-renowned Dunleavy Farm in Kentucky.
An opportunity of a lifetime…
Carla is astounded by the farm, and by her grandmother. Octavia Whitworth Dunleavy—the formidable matriarch of the family—who wants to pass her legacy to her three grandchildren. But is Carla ready to put her jet-setting lifestyle aside? And why had her mother denied the family connection?
A chance for love…
If the skeletons rattling the family closet weren't enough, Wade Petrie, the handsome cowboy who manages Dunleavy Farm, certainly has Carla's heart fluttering. He's infuriating and entirely too opinionated for her liking. But when danger strikes the elderly Octavia and the Dunleavy reputation is at risk, can Carla trust Wade to help them—or will the secrets he keeps overshadow all her dreams?
Bestselling author Janis Flores (aka Risa Kirk) weaves a rich tale of deception, hope, and love in DONE DRIFTIN', the first classic romance in the Dunleavy Legacy trilogy.