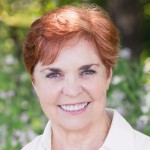 August, 2015
So many good things have happened lately that, even though the website is still under construction, I wanted to share the excitement with you.
I won't go all the way back to when I sold my first book (although that's kind of an interesting story in itself, and maybe at some point I'll include it), but I'll just tell you the result of a meeting of the Redwood writers in March of this year, where I met Laurie McLean, partner in the literary agency FUSE LITERARY.
I hadn't planned on attending that meeting, but a friend, Linda McCabe, called and said I'd be sorry if I didn't go. The featured speaker was Laurie McLean, whose topic was "publishing the backlist," and since Linda and I had discussed that very subject, she wanted me to meet Laurie and hear what she had to say. (For those who don't know, the 'backlist' comprises the books that were published, but which have gone out of print).
To make a long story short, I went to the meeting, and Linda introduced us. When I told Laurie that I have quite a few contemporary romances—first with Silhouette Special Edition (as April Thorne), and later for Harlequin Silhouette (as Risa Kirk)—and that among them was the best-selling trilogy THE DUNLEAVY LEGACY, she asked to see them. Naturally I raced home and sent them off as fast as I could.
I didn't really believe in serendipity—until now—because it so happened that Laurie's partner, Gordon Warnock , of Short Fuse Literary (an irony if there ever was one, since all my life I've been told I have a short fuse), was looking for a book (or books, in this case) to launch his new imprint called "Classic Romance." When Laurie showed him the trilogy, he selected them to introduce the new line.
It's quite an honor to be chosen to launch a new imprint—and a great responsibility. Over the years, I've had many "first lead" books at different publishers, but it's been quite a while since those halcyon days, which is why I'm so pleased about this new development. The trilogy will be first of my backlist to appear in both digital and paper form, but more of my "classic romances" will arrive as time goes on.
THE DUNLEAVY LEGACY was one of my favorites to write because it combines my love of horses (especially racehorses) and the "HEA" (happily ever after) ending that is so satisfying to many readers, myself included. It was also one of the most difficult to write, with three very different heroines, three heroes, three racehorses, one villain, and three separate but connected plots.
I've had many letters over the years asking if or when any of my contemporary romances will appear again, and now I can say with pleasure, here's the first three.
I hope you enjoy the books of THE DUNLEAVY LEGACY (DONE DRIFTIN', DONE CRYIN', and NEVER DONE DREAMIN'), as much as I loved writing them.
 First up: DONE DRIFTIN', with a brief introduction:

 THE DUNLEAVY LEGACY
Octavia Whitworth Dunleavy—formidable matriarch of the family—wants to hand over once-renowned Dunleavy Farm to her three grandchildren, whom she has never met. If each will come and stay a month, she will gift them with one of the last offspring of the farm's famed Triple Crown winner, Done Roamin'.
Will they accept her offer? Or will they be able to overcome old feuds and betrayals to restore the Dunleavy dynasty to its former glory?
DONE DRIFTIN' is the story of Carla Dunleavy, the first grandchild to accept Octavia's challenge.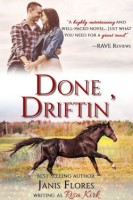 © Janis Flores
Share